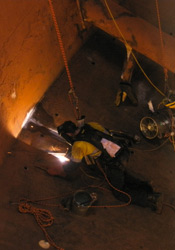 Geo-Structural staff have extensive experience of operating in difficult-to-access areas. All personnel are rope access trained and hold a broad spectrum of skills in related areas, including non-destructive testing (NDT) and welding.
Geo-Structural provides rope access solutions to any applicable site, discounting the need for prohibitively expensive traditional access methods such as scaffolding.
We guarantee professional rope access services at short notice. Our experienced teams are able to access a multitude of locations, including confined spaces, metal structures, chimneys, lighthouses and shafts.
Geo-Structural provides:
Coded welding and pipe fitting
Brick layers, stone masons, joiners and electricians
Protective coating application
Rigging and lifting
Pest control
Non-destructive testing
Photographic analysis, and visual and tactile surveying
Confined space entry
Working Over Water
Working around and over water can provide a host of access and safety issues. Geo-Structural utilises a 'Rapid River Rescue System' to provide a safe solution to these issues. The system is specifically tailored to cope with site-access in difficult water situations. It can be deployed in riparian or estuarine situations of any depth, speed or layout. Our teams are highly experienced in this task and are Swift Water Rescue Qualified.
Geo-Structural provides:
Advanced rope access techniques
Technicians experienced in water rescue
Environmentally considerate works, operating with a zero contamination policy